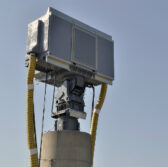 Anaren has received a potential $97 million order from Raytheon's integrated defense systems business unit to provide radio frequency beamforming assemblies needed for the production of the U.S. Navy's new air and missile defense radar.
Anaren said Tuesday it obtained $31.5 million in initial contract funds to support the low rate initial production of the AN/SPY-6(V) AMDRs.
The radar is designed for use on the DDG 51 Flight III Arleigh Burke-class destroyers.
Work will occur at Anaren's facilities in New York, Colorado and New Hampshire.
Mark Kosalek, vice president of business development at Anaren, said that the company seeks to continue its partnership with Raytheon on the AMDR program and potential future derivative systems that the service branch might need.
Anaren received an $8.5 million subcontract from Raytheon in April 2014 to produce beanformer technology as part of the engineering and manufacturing development phase of the AMDR program.