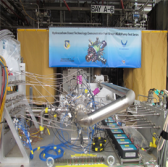 Aerojet Rocketdyne has tested a fuel boost kick pump engine component as part of an Air Force Research Laboratory program that aims to demonstrate an oxygen-rich staged combustion technology for rockets.
The company said Friday it developed and tested the kick pump at full power under AFRL's Hydrocarbon Boost Technology Demonstrator program.
"What we've learned through this program will be instrumental as other engines, such as our AR1 engine, are developed using this same engine cycle," said Eileen Drake, Aerojet Rocketdyne president and CEO.
"The sheer amount of data being gathered will help the rocket engine community better understand this pump, and its capabilities, when integrated into the turbomachinery assembly in the near future," said Joe Burnett, HBTD program manager at Aerojet Rocketdyne.
Burnett added that the company used the Cryogenic Rocket Engine Simulation Tool modified code to predict the behavior of the pump kick device and reduce potential risks as the test speeds steadily increased.
The tool was created through the AFRL's Upper Stage Engine Technology program.