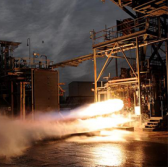 Aerojet Rocketdyne has completed a series of hot fire tests on its liquid-fueled rocket engine that was built through additive manufacturing or 3D printing.
The company said Monday the activity was funded by the Defense Advanced Research Projects Agency and involved 17 tests that validated the Bantam rocket engine's performance, durability and reusability.
Bantam is a 30,000 pound-force thrust-class engine that is comprised of three additively manufactured major components including the injector assembly, combustion chamber and a throat and nozzle section, Aerojet Rocketdyne added.
The 3D-printed engine was designed, fabricated and tested within seven months at a lower production cost than engines built using traditional fabrication processes, the company noted.
Bantam is designed to address the needs of the small launch vehicle and low-cost upper stage markets.
The series of tests builds on Aerojet Rocketdyne's plans to develop a family of low-cost rocket engines for booster, upper-stage and in-space propulsion platforms.