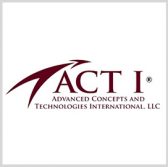 Advanced Concepts and Technologies International has received a five-year subcontract from Booz Allen Hamilton to provide lifecycle logistics and sustainment services to the Naval Air Systems Command on behalf of the Defense Department's F-35 Program Office.
The subcontract falls under a task order Booz Allen won through the U.S. Navy's Seaport-E contract vehicle, according to an ACT I release.
"We look forward to continuing our long-standing relationship with the F-35 program offices in Arlington, VA and across multiple F-35 field locations," said ACT I CEOÂ Michael Niggel.
ACT I currently provides financial management, cost, earned value management system, foreign military sales and engineering support to the F-35 Joint Program Office.