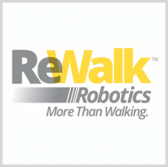 The Department of Veterans Affairs has ordered an additional 28 exoskeleton systems from ReWalk Robotics to support an ongoing clinical trial across VA centers.
ReWalk Robotics said Thursday it delivered 20 Personal Exoskeleton Systems in the first quarter of 2017 and is scheduled to deliver eight more systems later this year.
Larry Jasinski, CEO of ReWalk Robotics, said the VA aims to determine the potential impact of exoskeleton technology on the health and well-being of paralyzed military veterans who use the device.
VA initially bought 20 ReWalk exoskeleton systems in 2016 to aid in the department's multiyear, multicenter study.
The randomized study aims to enroll 160 patients, half of whom will use exoskeleton systems and the rest will use standard wheelchairs.
Six VA centers currently enroll participants in the study and four more centers will be included in the summer, the company noted.
All participants could qualify to receive a ReWalk exoskeleton system at the end of the trial.