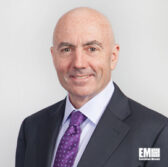 Mark Testoni, president and CEO of SAP National Security Services, has said government regulators and lawmakers should work to advance collaboration between public and private sectors in order to protect data networks and critical infrastructure from cyber attacks.
Testoni wrote in an opinion piece published Monday on The Hill that a collaborative environment can be achieved through threat information sharing between government and industry and adoption of commercial technology platforms by agencies to counter emerging cyber threats.
He called on policymakers to reduce legal barriers that hamper communication and flow of information between the government and private sector.
"To do so, we must address the fundamental conflict points between industry and government, including acquisition approach and pace, privacy, intellectual property ownership and legal issues around disclosure," he added.
Testoni cited the need for cultural change in order to drive "personal responsibility" and raise awareness about cyber hygiene as well as the need for "technology evolution" to build up detection and defense approaches against cyber threats.
"We also must drive individual and institutional practices that are preventative in nature and push risk down substantially," he noted.