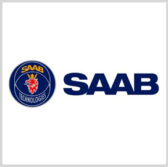 NATO's Eurofighter 2000 and Tornado aircraft management agency has ordered electronic warfare self-protection and countermeasure systems from Saab on behalf of Germany's air force.
Saab said April 11 it will manufacture 29 units of the BOZ-101 EC self-protection and countermeasure system for the German air force at the company's facilities in Jarfalla, Sweden and Centurion, South Africa.
The BOZ wing-mounted pod comprises a missile approach warning system as well as a countermeasures dispensing system designed to counter infrared-guided threats.
The company will carry out deliveries from 2017 through 2020.
Saab noted its customized self-protection and countermeasure systems are installed on various fighters and helicopters such as Gripen, F-18, F-15 and Eurofighter.