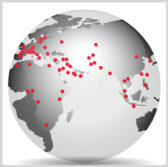 The National Geospatial-Intelligence Agency has begun to seek proposals for platforms designed to enhance image processing methods that are used with aerial synthetic aperture radar.
NGA said Wednesday the solicitation falls under the fifth topic of a three-year broad agency announcement for the agency's Boosting Innovative GEOINT program.
The agency aims to build up image processes through the expansion of the type and number of SAR-based sensor information that can be integrated with the GEOINT standard.
Frederick Koehler, research project scientist at NGA, said the BAA's fifth topic area seeks to address the per-pixel processing method applied in backprojection as part of NGA's Sensor Independent Complex Data standard.
NGA plans to award a potential one-year, $430,140 contract for the new solicitation and will accept questions to the aerial SAR topic through Friday.
Proposals for the fifth topic area are due May 1.
NGA announced the new solicitation under the BIG program two months after the agency awarded nearly $2 million in research contracts to four companies to develop automation and artificial intelligence platforms and nearly a year after it issued the first contract in July 2016.