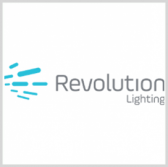 Revolution Lighting Technologies' light-emitting diode tube offering has been certified by the U.S. Navy as compliant with the military standard and for use in the service branch's fleet.
The company said Thursday it received certification for its two-foot T8 LED tube after naval engineers tested and evaluated the product against Navy guidelines.
T8's light output works to increase visibility and safety of seafaring vessels and its lamp is designed to have a life span of 70,000 hours, the company added.
Robert LaPenta, Revolution Lighting chairman and CEO, said the company aims to offer its lighting technology to  international maritime clients as well.
The company said Navy ships can now adopt the T8 through the branch's standard supply chain.