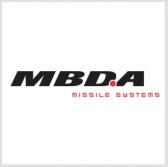 MBDA has conducted air carriage and jettison tests of its anti-ship missile technology onboard a Westland-built naval helicopter from the U.K.'s navy.
The Sea Venom/ANL missile tests evaluated the platform's capacity for integration with the Lynx and Super Lynx helicopters, MBDA said Wednesday.
MBDA developed Sea Venom to counter vessels such as fast inshore attack craft, fast attack craft and corvettes from a stand-off range as well as defend against ground and coastal threats.
The 220.5-pound missile is equipped with a fire-and-forget imaging infrared seeker designed for complex littoral environments.
MBDA teamed up with QinetiQ as well as the U.K.'s defense solutions center and navy to conduct the trials as part of the country's Defense Growth Partnership program.
France's defense procurement agency launched a development flight campaign to test Sea Venom on a Panther test bed helicopter.
The U.K. aims to use the anti-ship missile in conjunction with AW159 Wildcat helicopters, MBDA said.