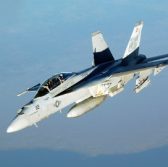 Mark Sears, service life modification program director at Boeing, has said the company plans to start the purchase of materials by mid-summer for the service life extension program work on the first F/A-18E/F Super Hornet aircraft, USNI News reported Tuesday.
Sears told USNI News in an interview that the company will begin the materials procurement process as it anticipates the award of the initial life extension contract by early 2018 and induction of the first fighter jet following the award.
Megan Eckstein writes Dan Gillian, F/A-18 and EA-18G programs vice president at Boeing, said the company has begun the Service Life Assessment Program to identify aircraft parts that need to be modified or replaced to extend the Super Hornet"™s operational life by 3,000 flight hours.
Gillian noted that Boeing has adopted a data-based "factory production approach" to facilitate the life extension work on the fighter jet and has begun to explore two learning planes in St. Louis to identify the "unknowns."
"So our engineering analysis tells us what we should have to change, the tear-down airplane will validate our engineering was right, and then it"™s dealing with the unknowns," he added.