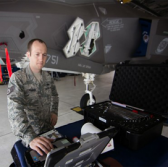 Lockheed Martin has received approval to install the latest version of a logistics software platform for the F-35 Lightning II fighter aircraft at several U.S. Navy and U.S. Air Force sites.
The Autonomic Logistics Information System 2.0.2 version works to help military users perform mission planning, flight scheduling and preventive maintenance operations for the fighter jet, Lockheed said Wednesday.
ALIS 2.0.2 software has integrated propulsion data and a networking tool that works to facilitate communications between home stations and deployed locations and help parent units oversee the supply chain for deployed F-35 squadrons.
Reeves Valentine, vice president of F-35 logistics at Lockheed, said the updated ALIS software seeks to help users manage resources as well as forecast and select spare parts, support tools and personnel for deployment.
Lockheed said it expects approval over the next six weeks to field the updated ALIS system at U.S. Marine Corps-run F-35 sites.
The Marines and the Air Force both achieved initial operating capability for their F-35 fleets in 2015 and 2016, respectively.
The U.S. Navy expects to reach IOC status for its F-35s in 2018.