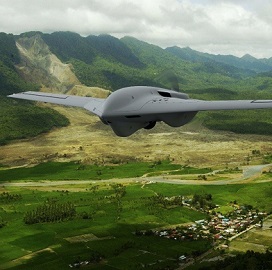 Lockheed Martin has conducted long-range endurance tests on a company-built tactical group 3 unmanned aerial system ahead of low-rate production of the drone.
The company said Wednesday its Fury UAS has recorded a flight endurance time of 12 hours while the vehicle operated nearly 100 pounds of payload such as electro-optical/infrared surveillance and multiple signals intelligence systems, satellite communications links and voice communications relays.
Kevin Westfall, director of Lockheed's unmanned systems business, said the company continues to internally invest in Fury as part of efforts to provide customers with a capacity for 'anytime, anywhere' flight.
Fury has logged more than 400 flight-test hours since May last year and the company increased flight tests and demonstrations during the second half of 2016.
Flight testing of the drone takes place at Lockheed's operating base in Yuma Proving Ground, Arizona, where the company also integrates pre-planned product updates for the Fury system.