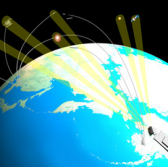 Lockheed Martin has completed the preliminary design review of a radar system designed to safeguard the U.S. from ballistic missile threats.
The company developed the Long Range Discrimination Radar under a potential $784 million contract the Missile Defense Agency awarded in October 2015, Lockheed said Thursday.
The LRDR platform is an S-band radar component of MDA's Ballistic Missile Defense System and works to provide defense equipment with tracking, discrimination and acquisition data to counter ballistic missile attacks.
The radar also has solid-state gallium nitride elements that work to discriminate long-range threats.
Lockheed said the LRDR system achieved level 6 in both technology and manufacturing readiness levels during the two-day preliminary assessment.
The company built a prototype of the radar platform and a test facility "" Solid State Radar Integration Site "" for use in the planned TRL 7 demonstration.
"The Solid State Radar Integration Site will be used to mature, integrate and test the LRDR design and building blocks before we deliver the radar to Alaska," said Chandra Marshall, LRDR program director at Lockheed.
Lockheed performs LRDR development work in Alaska, Alabama, New York, Florida and New Jersey.