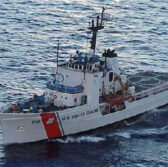 A Leonardo subsidiary has received a $10.7 million contract from the Eastern Shipbuilding Group to supply nine hybrid electric drive systems for integration into the U.S. Coast Guard's future Offshore Patrol Cutters.
Leonardo DRS will provide motor-based Auxiliary Propulsion Systems that work to boost the mission duration capacity of ships as well as help vessels reduce emissions, the company said Thursday.
The system is designed to also provide emergency take-home capacity in the event of a diesel engine failure.
Dianne Howells, vice president of Leonardo DRS' surface ships unit, said that the Auxiliary Propulsion Systems will offer operational flexibility for the Coast Guard's newest generation of ships.
Eastern Shipbuilding Group awarded Northrop Grumman a contract in November to design C4ISR and machinery control systems for the OPC program.
Fairbanks Morse received a contract in October to produce diesel propulsion engines for the service branch's first OPC ship.