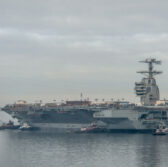 The U.S. Navy has awarded Huntington Ingalls Industries a $21.7 million contract modification for production and test engineering services to the pre-commissioning USS Gerald R. Ford carrier unit.
The Defense Department said Monday the company will begin work under the modification after it delivers the aircraft carrier to Naval Station Norfolk, Virginia, and will continue work through February 2018.
Capt. Thurraya Kent, a spokeswoman for the assistant secretary of the Navy for research, development and acquisition, told the Virginian-Pilot earlier this year that the service branch expects to accept delivery of USS Ford this month.
HII announced Friday its Newport News Shipbuilding division completed builder's sea trials of the aircraft carrier and that the Navy Board of Inspection and Survey is set to conduct acceptance trials on the ship.
The service branch obligated $50,000 in fiscal 2016 shipbuilding conversion funds at time of award of the modification.