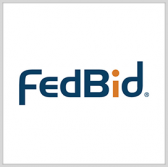 FedBid has secured a potential five-year contract to continue to provide reverse auction and acquisition support for the Labor Department's contracting offices.
The company said Thursday the contract contains one base year plus four option years and will aid DoL's acquisition strategy for commodity goods and simple services.
FedBid CEO Joe Jordan said the company's marketplace for reverse auction is designed to foster competition among an "expansive" vendor pool as well as provide opportunities for small businesses in the federal supply chain.
The company developed its platform to help government clients facilitate contract awards based on the current market pricing for what the buyer intends to procure.
DoL has awarded $68 million in contracts through FedBid's marketplace over the past 11 years.
FedBid said its reverse auction process has helped DoL save more than $4.6 million, compared with the department's original Independent Government Cost Estimates.