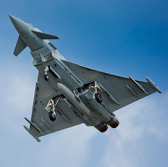 Maxam's EXPAL Systems subsidiary has received a contract from BAE Systems to help develop and integrate an air launched weapon system for the Eurofighter Typhoon multirole aircraft.
EXPAL will provide engineering support services for the integration of air-launched weapons munitions and standard weapons with MK 80 series warheads for Typhoon jets.
"With this contribution, EXPAL enlarges its trajectory of supporting weapon integration within aerial platforms," said Stephane Plantinet, marketing director of EXPAL.
Paul Wilde, a contract delivery manager at BAE's military air and information business, said the integration is part of the company's Eurofighter Typhoon Phase 3 Enhancements Package B program.
EXPAL Systems develops, manufactures and integrates products and services for clients in the defense and security industries.