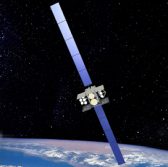 The Defense Information Systems Agency has issued a request for information on the availability of commercial ground infrastructure and related support services for satellite and non-satellite wideband communications systems.
DISA said in a FedBizOpps notice published Monday that Congress asked the Defense Department to perform an "analysis of alternatives" to identify a potential successor to DoD's Wideband Global Satellite Communication system comprising space, air and ground technologies.
The agency is interested in a ground-based network that can support thousands of user terminals, transfer data at a speed of 100 megabits per second and facilitate policy-based routing and interoperability with military-grade and commercial off-the-shelf products.
Elements of such infrastructure may include teleport or gateway facilities; satellite communications equipment; long-haul data transport facilities; network and security management hardware; and operations centers, personnel and processes, according to the notice.
DISA also seeks information on approaches to manage physical, network and data traffic with the Open Systems Interconnection model, satellites in non-geostationary orbits, communication relay and switching technologies  aboard non-satellite platforms, possible extensions to cellular communications technology concepts and new managed services.