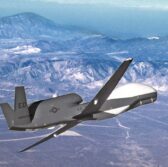 The Department of Homeland Security has awarded Planck Aerosystems and Asymmetric Technologies separate contracts worth up to $352,000 combined to develop small unmanned aerial systems and related platforms in support of the Customs and Border Protection"™s operations.
CBP said Thursday San Diego-based Planck Aerosystems will build a truck-based small aerial drone designed to deliver data as well as perform search and surveillance operations under a $152,512 contract awarded by DHS"™ science and technology directorate.
Planck will develop a dash-mounted user interface to operate the small UAS that will work to transmit data and video to passengers, drivers and other mobile users.
Asymmetric Technologies has secured a $199,814 contract to build a flight controller designed to protect aerial drones and other CBP-fielded systems from cyber attacks.
The Columbus, Ohio-based company will incorporate hardware security platforms and surveillance telemetry tools with the flight controller to protect unmanned systems and data from unauthorized access and ensure security of control and communications operations.
DHS awarded the contracts under the Silicon Valley Innovation Program"™s other transaction solicitation, which aims to help nonconventional vendors propose and build technology platforms designed to address homeland security threats.