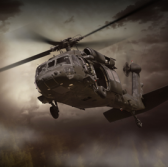 BAE Systems' U.S. subsidiary has signed a memorandum of understanding with Leonardo's DRS business to jointly offer threat detection systems for the U.S. Army's fixed- and rotary-wing aircraft platforms.
The partnership aims to develop an infrared-based threat warning technology to help the Army's current and evolving aircraft survivability requirements, BAE said Wednesday.
"Together, we can better protect our warfighters with technology that maximizes both flare declaration as well as directional infrared countermeasure cueing," said Paul Markwardt, vice president and general manager of survivability, targeting and sensing solutions business at BAE Systems Inc.
Shawn Black, vice president and general manager of Leonardo DRS' electro optical and infrared systems unit, said that DRS' long-range missile launch detection platform works to help increase the response capacity and survivability of air crews.
The alliance also seeks to update threat warning techniques used on the BAE-built Common Missile Warning System and DRS-made rotary-wing aircraft infrared sensors.