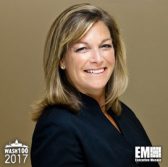 BAE Systems is in line to provide design, test and integration support for space, high-altitude and missile defense technology prototypes to the U.S. Army's Space and Missile Defense Command and Army Forces Strategic Command.
The company said Wednesday it will bid on task orders to provide the required services under a potential $3 billion indefinite-delivery/indefinite-quantity contract the Army awarded to eight firms in February.
"We"™re committed to helping the Army develop the new technologies it needs to gain a greater tactical edge on the battlefield and accomplish a wide array of complex missions," said DeEtte Gray, president for the intelligence and security sector at BAE Systems Inc. and an inductee into Executive Mosaic's Wash100 for 2017.
BAE noted the contract serves to facilitate the Army's "concept to combat" approach for technology development and deployment and build on previous work under the Concepts and Operations for Space and Missile Defense Integration Capabilities contract.