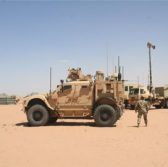 The U.S. Army has begun its search for small businesses that could support the service branch's upcoming Network Integration Evaluation event.
The Army's Mission and Installation Contracting Command asked interested companies to provide threat emulation forces for NIE 17.2, according to a FedBizOpps notice published Friday.
TEFOR is intended to apply rigor on operational environment simulations during test and evaluation exercises such as NIE events, the Army noted.
A selected contractor will carry out command and control; unmanned aerial vehicle operations and maintenance; weapons-simulators employment; program management; and quality control support, among others.
The Army will conduct NIE 17.2 at Fort Bliss in Texas and White Sands Missile Range in New Mexico from July 5 to Aug. 9 to support fielding decisions.
Interested parties can submit responses to the sources sought notice through April 13.