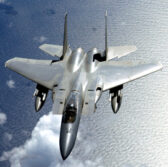 The U.S. Air Force has awarded Boeing a $46.4 million contract modification to definitize a foreign military sales requirement for interim contractor support to F-15 planes of the Saudi Arabian air force.
Boeing will support F-15SA aircraft at King Khalid Air Base in Saudi Arabia through March 31, 2017, the Defense Department said Friday.
DoD noted that the Air Force Life Cycle Management Center serves as the contracting activity for the contract as part of a foreign military sales deal.
The company also received an $18.3 million contract modification from the Air Force in February to provide AN/APG-6(V)3 radars for integration onto the Saudi Arabia's F-15SA fleet.