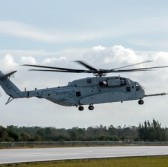 Sikorsky Aircraft, a subsidiary of Lockheed Martin, has received a $32.3 million delivery order from the U.S. Navy to produce aircraft spares and provide manufacturing labor services for a test article of the U.S. Marine Corps' heavy-lift transport helicopter system.
The Defense Department said Friday that Sikorsky will perform contract work in Stratford, Connecticut, through May 2019 in support of a CH-53K system demonstration effort.
CH-53K is designed to transport Marines, heavy equipment and supplies during ship-to-shore movement missions to aid amphibious assault operations ashore.
DoD noted that the Naval Air Systems Command is the contracting activity and will obligate the full contract amount at the time of award from the service branch's fiscal 2017 research, development, test and evaluation funds.