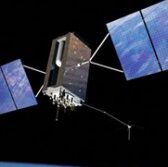 Research and Markets has predicted the global market for military satellite payloads and subsystems will grow at a 5.35 percent compound annual growth rate through 2021 due to advancements in satellites, antenna technology and networks.
The research firm said it also forecasts that the emergence of ground-based inflatable satellite communications antennas for military applications will help drive market growth.
The "Global Military Satellite Payloads and Subsystems Market 2017-2021" report also offers information on market drivers, trends and challenges and vendor landscape.
Companies profiled in the report include:
Airbus' defence and space segment
BAE Systems
Boeing
China Spacesat
Honeywell
Israel Aerospace Industries
Lockheed Martin
Northrop Grumman
Orbital ATK
Thales