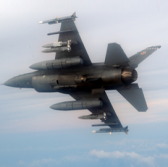 The U.S. Air Force and Raytheon have conducted six flight tests that validated the performance of an updated navigation system for a programmable, expendable flight vehicle.
Raytheon said Tuesday B-52 and F-16 aircraft were flown to test the GPS Aided Inertial Navigation System II of the Miniature Air Launched Decoy-Jammer vehicle at White Sands Missile Range in New Mexico.
GAINS II modifications also include an updated multi-element GPS controlled antenna assembly, the company noted.
Raytheon's space and airborne systems business helped design GAINS II while the company's missile systems unit provided systems engineering, integration and testing support for the MALD-J navigation system modernization effort.
MALD is designed to confuse enemy air defenses through duplication of friendly aircraft flight profiles and radar signatures.
The vehicle weighs less than 300 pounds and has a range of approximately 500 nautical miles, Raytheon said.