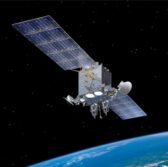 Lockheed Martin has received a fifth payload comprised of anti-jamming, cyber attack protection, detection and intercept technologies from Northrop Grumman under a U.S. Air Force satellite program that aims to facilitate communications between military leaders and the White House.
Northrop said Monday the payload it developed for the Advanced Extremely High Frequency satellite will undergo space vehicle level integration ahead of the fifth AEHF satellite launch scheduled for 2018.
Cyrus Dhalla, vice president of communications systems at Northrop's aerospace systems business, said the milestone demonstrates the company's continued support for efforts to develop satellite communications systems designed to offer secure communications services to the country's warfighters.
The Air Force awarded Lockheed a $1.9 billion contract in December 2012 to manufacture the fifth and sixth satellites under the AEHF program.
AEHF satellites are designed to offer individual user data transmission capacity of up to 10 times greater than the five-satellite legacy Milstar constellation and support two-way, jam-resistant transfer of tactical military communications data such as battlefield maps, video and targeting data.
Northrop added that AEHF will also deliver communications capacity to the National Command Authority in the event of a conflict.