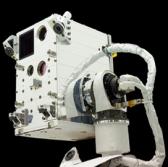 NASA's Raven technology with a Space Systems Loral-built two-axis gimbal equipment has reached the International Space Station following the Feb. 19 launch of SpaceX's 10th ISS cargo resupply mission.
NASA's satellite servicing projects division developed the Raven system designed to test components of a spacecraft navigation system that aims to facilitate satellite servicing, asteroid exploration and other rendezvous missions, SSL said Tuesday.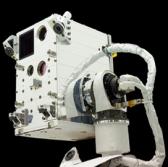 SSL's two-axis gimbal equipment is based on the company's Dual Access Positioning Mechanism designed to field antennas, electric thrusters and reflectors on the SSL 1300 satellite platform and works to help the Raven module direct its Rendezvous and Proximity Operations sensors at vehicles as they approach ISS.
"Mastering complex in-space robotic manipulation of satellites is fundamental to the security of our nation's current satellite fleets and deployment and maintenance of future space architectures," said Rich White, senior vice president of business development for government systems at SSL.
White added that SSL's equipment for Raven seeks to "mature satellite servicing" functionality.
NASA and the Defense Advanced Research Projects Agency tapped SSL to work on satellite servicing initiatives in geosynchronous and low-Earth orbits.
SSL also contributes to various government exploration missions, such as Goddard Space Flight Center's Restore-L mission and DARPA's Dragonfly program with NASA.