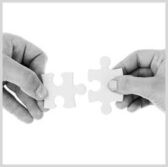 DXC Technology, the company that will result from Computer Sciences Corp.'s merger with Hewlett Packard Enterprise's enterprise services segment, targets digital transformation support for customers as one of its strategic priorities, CRN reported Wednesday.
Rick Saia writes Mike Lawrie, CSC chairman, president and CEO, told investors Wednesday that DXC will aim to offer clients an opportunity to manage costs within their traditional infrastructure and invest in digital platforms.
CSC shareholders approved the combination earlier this week, clearing the path for DXC to begin operations on Monday.
Lawrie told investors DXC's leadership team will work to streamline the company's organizational structure, consolidate redundant roles and increase productivity through automation in an effort to address what he calls initial "dis-synergies."
The combined entity will also invest in people, skills and programs meant to help clients address technology workforce challenges, Saia reports.
The report said DXC executives predict a seven- to 10-percent increase in industry-focused work and business process services over the next three years as well as an annual revenue of up to $24.5 billion, with annual revenue growth of one to four percent through 2020.