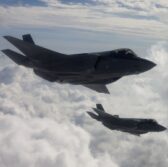 Lockheed Martin has secured a two-year, $64.7 million delivery order from the U.S. Navy to perform work on integrated core processor of the company-built F-35 fighter aircraft.
The Defense Department said Friday Lockheed will help address manufacturing sources constraints projected under F-35 Lot 15 production in support of the Navy, Air Force, Marine Corps and international partners.
Work will occur in Fort Worth, Texas through March 2019.
The Naval Air Systems Command will obligate $29 million at the time of award from the Navy and Marine Corps' fiscal 2016 research, development, test and evaluation funds as well as international partners' funds.