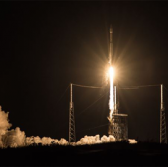 A Lockheed Martin-built geosynchronous Earth orbit satellite designed to provide missile warning data to the U.S. Air Force has transmitted its first images from its orbit approximately 22,000 miles above the equator.
Lockheed said Wednesday the third Space Based Infrared System satellite will work to help the Air Force distribute missile warning data to the U.S. and its allies.
SBIRS GEO Flight 3 was launched aboard a United Launch Alliance-built Atlas V evolved expendable launch vehicle in January from Cape Canaveral Air Force Station to support battlespace awareness efforts of U.S. combatant commands and intelligence organizations.
David Sheridan, vice president of Lockheed's overhead persistent infrared systems mission area, said the satellite's arrival on orbit supports the company's efforts to build on the sensor accuracy and target detection performance of GEO Flight 3's predecessors.
The satellite has already deployed sun-tracking solar arrays, antenna wing assemblies and light shade on orbit, Lockheed noted.
The company added the next satellite in the series called GEO Flight 4 will undergo final assembly, integration and tests at the company's facility in Sunnyvale, California, in preparation for its launch slated later in the year.
The SBIRS team will also update the fifth and sixth SBIRS satellites for the Air Force using an updated A2100 spacecraft bus to offer a configurable payload module that can cater to future sensor suites.
Lockheed's space systems business serves as prime contractor on the program and works with Northrop Grumman's aerospace systems business as payload integrator, the Space and Missile Systems Center's remote sensing systems directorate as development team lead and Buckley Air Force Base's 460th Space Wing as SBIRS operator.