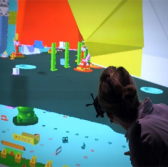 Brigham Young University and Lockheed Martin will collaborate on the application of gaming technology to help users interact with, record and share engineering designs in virtual reality environments.
Lockheed said Tuesday the project is part of a research grant awarded to BYU's mechanical engineering department for the development of a VR training and design review system that will support the company's digital engineering efforts.
The partnership will utilize three-dimensional technology to help increase collaboration, design efficiency and training as well as help identify potential manufacturing or sustainment process challenges.
"[BYU's] work will help us learn from and share experiential 3-D imagery in every stage of product development, from engineering design and manufacturing to operations and sustainment," said Darin Bolthouse, manager of Lockheed Martin's Collaborative Human Immersive Lab in Denver.
John Karas, a vice president of Lockheed and manager of its Ground Based Strategic Deterrent program, said that the company's laboratory in Utah and VR technology will help clients experience Lockheed's designs on a virtual platform.
Lockheed noted that it discussed options with BYU on the continuation of a virtual reality research partnership and other potential manufacturing research opportunities between the two parties.
Additive manufacturing and virtual reality elements support the company's Digital Tapestry approach that covers the implementation of modern digital technology for conceptualization design, manufacturing, sustainment and verification applications on projects such as missile and interplanetary spacecraft development.