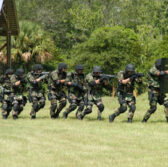 InfoReliance has won a three-year, $16 million contract to help the U.S. Marine Corps manage an enterprise training program designed to support missions of the service branch's training and education command.
The company said Monday it will also continue to support development and enhancement of the Marine Corps Training Information Management System under the indefinite-delivery/indefinite-quantity recompete contract.
"This win is a source of corporate pride, reflecting years of dedication and hard work supporting TECOM and the entire Marine Corps," said Mick Perry, executive vice president of InfoReliance's mission systems unit.
Perry added that the company's partnership with the service branch was founded on a commitment to help address warfighters' training needs.
InfoReliance's partners on the contract include Harmonia, ProSol and Tellenger.
Fairfax, Virginia-based InfoReliance offers cloud computing, cybersecurity, enterprise information technology and software engineering services to the government and commercial sectors.