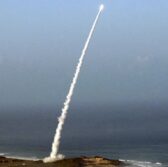 India"™s navy has issued a request for information for a program that seeks to purchase approximately $1.5 billion in short-range surface-to-air missile platforms in an effort to replace its Israel-made Barak-1 air defense systems, Defense News reported Wednesday.
Vivek Raghuvanshi writes the Indian navy plans to release a tender after six months through the Make in India policy's global procurement category in order to buy 600 missiles and 10 SRSAM systems.
The program would require foreign defense contractors to partner with domestic firms to integrate indigenous technology platforms with SRSAM systems and execute 30 percent in offset obligations.
An Indian navy official told Defense News that Raytheon, MBDA, Thales, Saab, KBP Tula, Rafael Advanced Defense Systems, Israel Aerospace Industries, Samsung and Doosan Group are among the foreign companies that are expected to bid on the program.
The report noted that domestic firms that are likely to team up with foreign defense companies include Bharat Electronics, Bharat Dynamics, Bharat Forge, Ordnance Factory Board, Tata Power SED, Reliance Defence and Engineering and Larsen & Toubro.
The proposed SRSAM platform will have a fire control tool, a command-and-control system, a launcher and a common link radar and is expected to enter service over the next five years, Raghuvanshi reports.