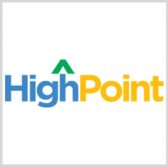 HighPoint Global has secured a position on the General Services Administration's Information Technology Schedule 70  contract vehicle to offer professional services for federal government agencies.
The company said Tuesday it received a potential 20-year contract to provide support under the IT professional services and health IT professional services special item numbers.
HighPoint CEO Ben Lanius said the company now holds two GSA Schedule contracts and will work to support federal government customers' mission and citizen-centric services.
The contract has a base period of five years with three five-year option periods.
Indianapolis, Indiana-based HighPoint offers training, contact center optimization, IT and quality assurance services for government agencies.