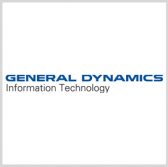 General Dynamics' information technology business unit has secured a potential five-year, $16 million task order from the Defense Intelligence Agency to provide IT support to the U.S. European Command's intelligence directorate.
The company said Tuesday the task order covers IT, web architect, content management, planning and documentation support services.
DIA awarded the task order through the Enhanced Solutions for the Information Technology Enterprise contract vehicle.
Work will occur within the Eucom region as well as deployed locations, General Dynamics noted.
The company also won a potential five-year, $170 million task order through the E-SITE vehicle in February to provide cybersecurity engineering, threat fusion and incident detection and response services to DIA.