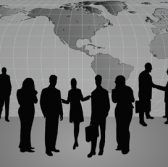 A new EY study has found that 60 percent of public sector leaders said they think their senior leadership teams lack gender diversity and that 55 percent of them believe women are an underutilized talent pool in the government sector.
EY said Sunday it surveyed 80 public sector executives in mid-2016 across 17 countries for the company"™s new "Women. Fast Forward" report and found that only 40 percent of respondents said their agencies implement programs to assess efforts that aim to build up gender diversity within their leadership teams.
The report also showed that at least 70 percent of respondents said they do well in efforts to attract female talent, while over 80 percent of public sector leaders said they believe organizations need to change their strategies to retain, attract and promote female employees.
"Now more than ever, governments and public sector organizations require diversity of thought and experience to enhance their analysis and understanding of complex global issues," said George Atalla, global government and public sector leader at EY.
"Accelerating achievement of gender parity facilitates improved productivity, engagement and decision-making," he added.
EY also found that 40 percent of female respondents think the lack of support from senior executives poses a challenge to women"™s promotion to senior leadership positions.