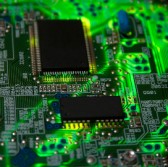 The Defense Advanced Research Projects Agency will host a Proposers Day on March 29 in Arlington, Virginia, to discuss a program that seeks to develop new radiofrequency and millimeter-wave transistors and semiconductor materials designed to meet electromagnetic spectrum-related requirements.
Dan Green, a program manager at DARPA"™s microsystems technology office, said in a statement released Thursday the Dynamic Range-enhanced Electronics and Materials program seeks to advance the development of transistors that will work to "transmit and receive the large and complex RF signals of the future and they will do so in smaller packages while consuming minimal power."
The DREaM program aims to address challenges associated with the characteristics of an RF transistor system such as signal power, power efficiency, range of frequencies and linearity.
Green said the initiative will focus on two technical areas and one of them is to develop new materials that work to handle more electrical charge without degradation through research into ultrawide bandgap materials and gallium nitride"™s crystal variants.
The DREaM program"™s second technical area will conduct research on filamentous and nonplanar structures to understand the transistor behavior"™s linearity across various signal frequency ranges.
DARPA plans to release the broad agency announcement for the program prior to the event.
Registration for the Proposers Day is open until March 27.