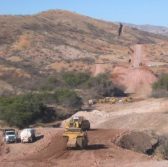 The Customs and Border Protection seeks industry proposals for the design and construction of prototypes for President Donald Trump's planned U.S.-Mexico border wall.
CBP said Friday it intends to award multiple contracts, acquire numerous wall designs and build multiple prototypes through two requests for proposals published on the FedBizOpps website.
The agency issued RFPs for a solid concrete border wall as well as other designs and noted  that the wall should be 30 feet tall but heights of at least 18 feet could be accepted, CNN reported Saturday.
Gregory Wallace writes the structure will be built to thwart penetration attempts and climbing aids such as ladders and grappling hooks.
CBP wants the wall to be "aesthetically pleasing in color" and blend into the landscape on the U.S. side of the border, Wallace reported.
Each prototype will cost approximately $200,000 to $500,000 and will help CBP select the design for the actual border wall, according to the FBO notice .
CBP issued the RFPs to comply with an executive order titled "Border Security and Immigration Enforcement Improvements," which requires the agency to plan, design and build a physical wall along the southern border.