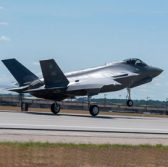 Rheinmetall has received a $6.5 million contract from the U.S. Air Force to produce four lots of ammunition for the service branch's fleet of Lockheed Martin-built F-35 aircraft.
The company said Monday it will begin to deliver Frangible Armor Piercing rounds to the Air Force in December 2017.
Rheinmetall will manufacture the ammunition at a company facility in Switzerland and expects its joint venture with Day and Zimmermann's munitions business to assemble ammunition in the U.S. under future follow-on contracts.
The FAP round was originally developed for NATO air forces as part of an effort to boost the F-35's lethal capacity in comparison with modern infantry fighting vehicles.
Dusseldorf, Germany-based Rheinmetall provides mobility and threat-appropriate security technology platforms to military customers.