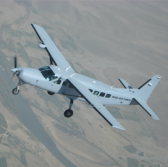 A Textron subsidiary will continue to provide maintenance and training support services for Afghanistan's Cessna C-208B Caravan aircraft under a potential five-year, $50 million contract from the U.S. Air Force.
Textron Systems Support Solutions will train Afghan air force personnel on how to maintain the branch's C-208Bs designed for military transport and training activities, the company said Tuesday.
The follow-on Afghan Trainer Contractor Logistics Support contract took effect Feb. 1 with a one-year base value of $9.35 million.
Work will occur in Afghanistan's Kabul and Kandahar air bases.