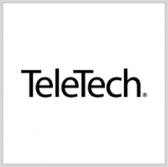 The General Services Administration has awarded TeleTech Holdings a position on GSA's Schedule 70 contract vehicle to offer the company's customer experience and engagement services to potential federal, state and local government buyers.
The company said Tuesday it will provide architecture design method, engineering and analytical tasks, reporting procedure analysis, systems review and system development, quality assurance, training and maintenance services under the contract's information technology professional services special item number.
"TeleTech is excited to be working with the United States government to provide information technology professional services in the coming years," said Steve Pollema, TeleTech senior vice president of customer technology services.
Pollema added that the company will use its experience in the IT professional services area to help customer agencies complete IT programs on schedule and within budget as well as meet consistency and integration requirements within the government's architecture and business strategies.
TeleTech's contract with GSA will be valid until Dec. 21, 2021.