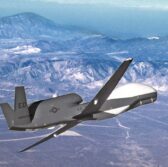 Syracuse Research has secured a one-year, $65 million contract to develop, produce, integrate and sustain a counter-unmanned aerial system platform for the U.S. Army under the acceleration phase of a joint-urgent operation need.
The company will deliver up to 15 sets of low-slow small UAS integrated defeat system to the military branch under the cost-plus-fixed-fee contract, the Defense Department said Tuesday.
Work will take place at Syracuse Research's facility in North Syracuse, New York, through Jan. 30, 2018.
The Army Contracting Command is the contracting activity and obligated $31.9 million at the time of award from the military branch's fiscal 2017 operations and maintenance funds.