Science Applications International Corp.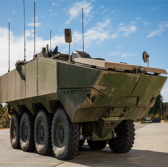 has rolled out an amphibious combat vehicle model developed for the U.S. Marine Corps at a company-run integration facility in Charleston, South Carolina.
SAIC said Tuesday the ACVÂ 1.1 prototype is an updated version of ST Kinetics' TERREX vehicle and designed to help the Marine Corps transport fighting units from ship to shore.
The service branch awarded SAIC and BAE Systems separate contracts worth a combined $225 million in November 2015 to conduct ACV Increment 1 engineering, manufacturing and development efforts.
SAIC built its 8×8 wheeled armored amphibious vehicle, the first of 16 vehicles to be delivered to the Marine Corps, with updated C4ISR, lethality, mobility and survivability features as well as a 600-horsepower engine and transmission system.
Tom Watson, senior vice president and general manager of SAIC's U.S. Navy and Marine Corps customer group, said the company'e employees and partners worked to deliver the new prototype system to the Marine Corps on schedule.
The ACV 1.1 is also equipped with 360-degree situational awareness and force protection technologies as well as an independent suspension system designed to support Sea-State 3 operations.
SAIC CEO Tony Moraco said the company would manufacture ACVs at its Hanahan facility if the service branch picks the firm as the program's winning contractor, The Post and Courier reported Wednesday.