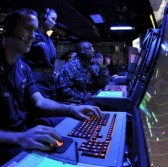 PSI Pax has won a potential five-year, $23.8 million contract to provide management support and professional services to the U.S. Navy's combat integration and identification systems division.
The Defense Department said Friday task orders under the indefinite-delivery/indefinite-quantity contract will include systems design, integration, engineering, installation, operational support, training and in-service engineering for shore and combat identification, air traffic control and C3 systems.
The Navy will obligate funds upon issuance of individual orders, according to DoD.
DoD added the contractor will perform work at Webster Field in St. Inigoes, Maryland, and is scheduled to complete work in March 2022.
The Naval Air Warfare Center Aircraft Division received three offers for the contract via an online small business set-aside competition.