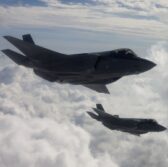 The U.K.'s air force and Northrop Grumman have collaborated to test communications interoperability between the Typhoon FGR4 fighter aircraft and Lockheed Martin-built F-35B.
Northrop said Wednesday it provided an airborne gateway for the two-week Babel Fish III trial that was held in Mojave Desert, California.
F-35 jets communicate through the Multifunction Advanced Data Link while the Typhoon aircraft uses Link 16 to share data, Northrop noted.
Northrop's airborne gateway worked to translate MADL messages to Link 16 format to connect F-35 and Typhoon aircraft during the U.K.-funded trial.
The airborne gateway featured a Freedom 550 software-defined radio that is based on the integrated communications, navigation and identification avionics suite Northrop manufactures for the U.S. Air Force's F-35 fleet.
Babel Fish III marked the first time that non-U.S. fifth- and fourth-generation aircraft exchanged MADL-delivered data and demonstrated interoperability as U.K. moves toward initial operating capability of its F-35 planes in 2018.