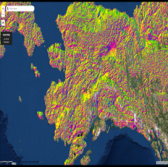 The National Geospatial-Intelligence Agency unveiled a new collection of digital elevation models of the Arctic at Esri's two-day Federal GIS conference that kicked off Monday in Washington.
NGA presented the new collection as part of the ArcticDEM project – a public-private partnership between NGA, Esri and the Polar Geospatial Center that seeks to generate high-resolution elevation models for use in national security and scientific applications in the Arctic region, Esri said Thursday.
"The latest release of this elevation data is the largest collection to date for this project," said Don Kerr, chief of news and information at NGA.
Peter Becker, ArcGIS product manager at Esri, said the new collection would serve as a resource for federal agencies that rely on location data.
The new Arctic elevation models can be accessed on Esri's online portal and seek to show data and imagery from Russia and Canada as well as images of landscape changes in the Arctic region.