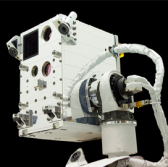 NASA plans to launch a technology module with an unmanned SpaceX-built cargo spacecraft in a bid to demonstrate autonomous rendezvous in space.
The Raven module will be deployed aboard Dragon spacecraft as part of SpaceX's 10th commercial resupply mission to the International Space Station, NASA said Tuesday.
Raven will test technologies that could facilitate development of a relative navigation system for future NASA missions such as on-orbit spacecraft servicing.
"Two spacecraft autonomously rendezvousing is crucial for many future NASA missions and Raven is maturing this never-before-attempted technology," said Ben Reed, deputy division director for the satellite servicing projects division at NASA's Goddard Space Flight Center.
Raven will be attached on ISS to provide information for the development of a real-time relative navigation system designed to help spacecraft servers track and catch targets.
NASA said the module's components will work to independently image and track incoming and outgoing spacecraft that visit ISS.
The agency looks to deploy Raven's future relative navigation system in an upcoming servicing mission that will use the Restore-L robotic spacecraft to refuel the Landsat 7 Earth-observing satellite.