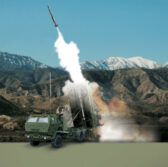 MEADS International, a joint venture between Lockheed Martin and MBDA, has submitted a proposal to the Polish government to build and deliver air-and-missile defense systems, Defense News reported Tuesday.
Jen Judson writes the submission is in response to a solicitation notice on Poland's Wisla missile defense program.
Marty Coyne,  Medium Extended Air Defense System director at Lockheed, said that the proposal covers the production and delivery of 16 fire units over a 50-month period, according to the report.
The report said MEADS' offering incorporates the Patriot Advanced Capability-3 Missile Segment Enhanced missile technology.
In September 2016, MEADS signed a partnership agreement with Poland's state-owned defense firm Polska Grupa Zbrojeniowa to explore potential business opportunities involving the Wisla medium-range air defense program.
Judson reported Poland has an option to acquire Patriot missiles and Northrop Grumman's Integrated Air and Missile Defense Battle Command System via a foreign military sales deal with the U.S. or purchase the MEADS systems through a hybrid sale.
MEADS plans to establish a systems integration laboratory in Warsaw for the development of future performance and capacity updates as part of its proposal to the Polish government.
Raytheon also offered a workshare plan to compete for the Wisla program, Judson wrote.